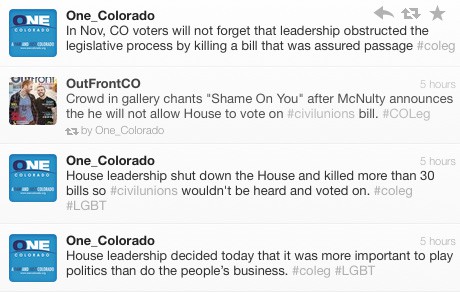 Absolutely shameful filibustering from Republicans kept thousands of Coloradans from gaining rights similar to marriage last night.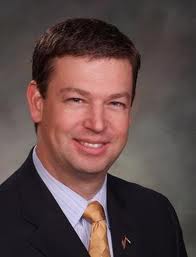 Colorado GOP House Speaker Frank McNulty (pictured) created an 'impasse' so that civil unions and several other bills would not be considered by Tuesday night's midnight deadline, therefore killing the civil union measure which was virtually assured passage, the AP reports:
McNulty told reporters that lawmakers had reached an impasse and civil unions would die along with several other bills, including an overhaul of school discipline policies and setting a blood-level marijuana limit for drivers.
"We have reached an impasse," McNulty said. "It is unfortunate that there will be items that will not receive consideration by the House tonight because of this impasse."
…Colorado's bill had cleared a key hurdle Tuesday when Republican Rep. Cheri Gerou joined Democrats to advance the measure out of its final committee for consideration by the full chamber.
That's when the stalling began:
Democrats used a procedural move to try to stop debate on other bills when it became clear Republicans were talking at length about other measures, delaying any action on civil unions.
Republicans responded by abruptly stopping floor work. The bill needed to have an initial vote of the full House before midnight Tuesday or else the proposal would die. That's because the Legislature adjourns Wednesday, so there wouldn't be time for a final vote.
Earlier, Democratic Rep. Ferrandino, his party's leader in the House, told the House's third-ranking Republican, Rep. Mark Waller, "We're willing to work with you to make sure every bill gets an up or down vote tonight."
The Senate had already approved the bill, and Democratic Gov. John Hickenlooper supported it.