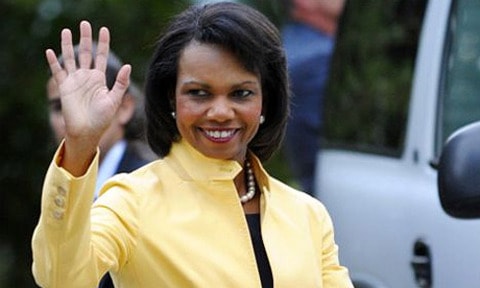 Former Secretary of State Condoleezza Rice appeared at a California fundraiser for Mitt Romney last night to officially back the GOP presidential hopeful's White House bid.
"If America is going to rebuild its strength at home, rebuild its sense of who we are, it needs a leader that also understands how really exceptional the United States of America is, and is not afraid to lead on the basis of that exceptionalism," Rice reportedly said of Romney.
"The only thing that people dislike more than unilateral American leadership is no American leadership at all."
Rice's endorsement came one day after Romney officially clinched the nomination, and her delay — as well as that of other former diplomats —  has some Washington insiders wondering if Romney still faces a deficit amongst the "Republican foreign policy establishment," including Henry Kissinger.
Regardless of any potential hesitancy, Rice his a lot of the "right" notes by tacitly claiming President Obama doesn't believe in American exceptionalism, a common narrative since 2008.