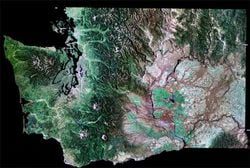 As the clock ticks down toward a decision on whether Washington State voters will have to reaffirm legislation legalizing marriage equality, a new poll conducted for the Associated Press shows that most voters there support keeping the inclusive law in place.
From Washington United for Marriage's press release:
A new, independent, statewide poll finds that an overwhelming majority of voters approve of the Washington's law extending civil marriage to same-sex couples.  Washington voters approve of the law by a 54-33% margin. In addition to extraordinary support by Democrats (87%), the poll also found significant support among Independents, nearly mirroring the full poll, at 52-36%.

Next week, Washington United for Marriage expects opponents to submit more than enough signatures to put the existing law allowing committed same-sex couples to marry in Washington up for referendum in November.
WUM campaign manager Zach Silk and his allies of course celebrated the news, with Silk remarking, "This poll affirms what we see and hear everyday: that Washingtonians believe that marriage belongs to all loving, committed couples. But get ready. Our opponents are already spinning fear and spreading misinformation. We know that they will do whatever it takes to win."