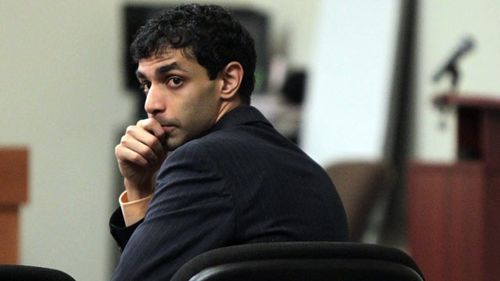 Reuters published an article yesterday neatly summarizing the support Dharun Ravi has received from various members of the gay community. (If you're just tuning in: Ravi is the 20-year-old who, two years ago, briefly used his webcam to spy on his new roommate, Tyler Clementi, during a gay hookup; Clementi committed suicide shortly thereafter, and Ravi's now been convicted of a hate crime. He could face substantial prison time, and will likely be deported.)
Reuters quoted Aaron Hicklin, the debonaire editor of Out:
"Ravi's conviction was a compelling signal that harassment and bullying of LGBT (lesbian, gay, bisexual and transgender) people carries penalties," Aaron Hicklin [wrote] in an article arguing that Ravi be set free.

"Yet the verdict also left a bitter aftertaste, as if what was being satisfied was not justice, but revenge."

Hicklin cited a past comment by Middlesex County Prosecutor Bruce Kaplan that even if Clementi were alive today, he would have presented virtually the same case to the jury. Anyone who believes Kaplan, Hicklin wrote, is "kidding himself."

"Ravi was convicted because Clementi is dead," Hicklin wrote, adding that the suicide "left us reaching for simplistic answers where there are none."
… and gay rights activist Bill Dobbs:
At a rally in support of Ravi outside the New Jersey Statehouse in Trenton this week, Bill Dobbs … told the crowd that Ravi was "overcharged" in the incident.

"The hate crime law in New Jersey has got so many problems that it should be repealed," Dobbs said. "It has become a dangerous weapon that is not necessary."
… and Andrew Sullivan:
Sullivan … said the hate crime charges, without which Ravi would likely get probation and no prison time, were "tenuous" and "repellent."

"This was a bigoted online hazing, followed by a judicial witch-hunt," Sullivan wrote.
… and lesbian writer E.J. Graff:
E.J. Graff … said in her column in The American Prospect, "I fear that Ravi is an easy scapegoat for a complicated problem."
… and the head of Garden State Equality, Steven Goldstein:
"Justice is best served by his serving some jail time for the crime committed," … Goldstein said. "The moderate position is not to throw the book at this young man, nor should he get off Scott free."
… and mentions that Ravi has the support of Dan Savage and New Jersey's gay ex-governor, Jim McGreevey, as well.