Rep. Joey Hensley, R-Hohenwald, says he is shelving Tennessee's "Don't Say Gay" bill for the current legislative session based on the opposition "of some people who didn't want to vote on it" and a promise from the State Department of Education and Board of Education to direct schools via letter not to teach about homosexuality in grades K-8, the Knox News reports: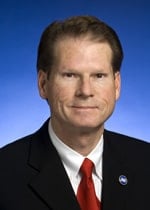 The bill passed the Senate last year and recently won approval in modified form from the House Education Committee on an 8-7 vote. It needed only the approval of the Calendar Committee, usually a routine matter, to be set for a floor vote.
Hensley said nickname the bill received "really wasn't what the bill was all about" and contributed to unease of some legislators in voting on the measure. He said the bill could be re-filed next year if there is any indication of "alternate lifestyles" being prompted in Tennessee schools despite the pending letter.
The operative language of the amended version says that in grades K-8 any such classroom instruction, course materials or other informational resources that are inconsistent with natural human reproduction shall be classified as inappropriate for the intended student audience and, therefore, shall be prohibited."