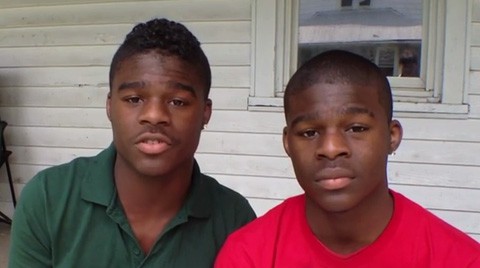 Darnell "Dynasty" Young  (pictured, left, with twin brother Darell), a gay student at Tech High School in Indianapolis, is facing expulsion for carrying a stun gun his mother gave him to protect himself from a group of bullies who threw rocks at him and threatened to beat him up.
Watch the interview with Darnell "Dynasty" Young, AFTER THE JUMP…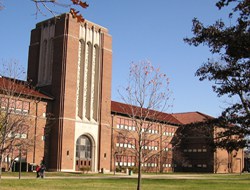 The problems started when he moved from Arizona to live with his mother, the Indianapolis Star reports:
When he arrived at the school, his new classmates were more confrontational. His outgoing personality and unique accessories made him stand out from the other students. Even some of the other gay students were unfriendly, he said. The bullying started in October, he said.
"All day I'd be on my guard," he said. "It never got better. It always got worse."
Young broke down in tears when a rumor circulated that he performed sex acts in the bathrooms. He said he thought about committing suicide.
Young says he was taunted every day.
Young and his mother said they told the school about the bullying more than 10 times, but Young said Tech did not formally investigate their complaints except for once when a student who taunted him during class was taken to the dean's office and punished. Grimes said she called the school about students following Young home from the bus stop, but school officials said they could not do anything since the students were not on school property. When she complained other times, they brought up his sexuality. Larry Yarrell, the Tech principal, said school staff were trying to help Young by suggesting that he "tone down" his accessories.
Young's mother, facing no response from the school, gave him a stun gun for protection because she says she feared for his safety and says she would never have given him a real gun or a knife:
The small weapons come in a range of voltages. They do not shoot bullets but give an electric shock that temporarily incapacitates people. Unlike Tasers, they don't have barbs that shoot out of the gun and embed in people's flesh. Instead, the shooter must place the gun on or close to people to shock them. They're not considered deadly under Indiana law, but they are not allowed on school property.
One day, when the bullies threatened him again, he pulled it out and fired it in the air. School officials were then alerted that he had it, and he now faces expulsion.
It is illegal for a minor to carry a stun gun. The question here is, what is a student or parent to do when faced with relentless, and possibly violent anti-gay bullying that the school will do nothing about.
Watch the interview with Darnell "Dynasty" Young, AFTER THE JUMP…