Evangelist Billy Graham is speaking out in support of North Carolina's Amendment One, WXII reports: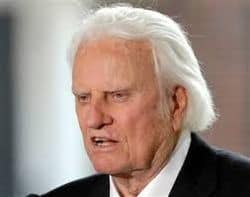 The 93-year-old Graham has a full-page advertisement scheduled to run in 14 state newspapers. From his home in Montreat, Graham said, "Watching the moral decline of our country causes me great concern. I believe the home and marriage is the foundation of our society and must be protected."
Voters will take to the polls on "Amendment One" on May 8, though early voting has already started.
"At 93, I never thought we would have to debate the definition of marriage," Graham says in the advertisement. "The Bible is clear — God's definition of marriage is between a man and a woman. I want to urge my fellow North Carolinians to vote for the marriage amendment on Tuesday, May 8. God bless you as you vote."
Amendment One would constitutionally prohibit legal recognition of any union other than marriage between a man and a woman, including same-sex civil unions and domestic partnerships.
If you are interested in helping in the last push to defeat Amendment One, click HERE.