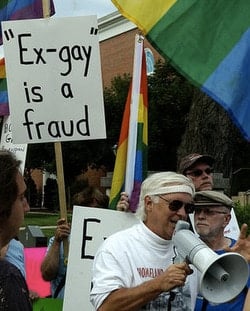 In February of 2011, Max Hirsh decided to see a psychiatrist to deal with his depression and, he hoped, improve his relationships with other gay men. Instead he got an earful of "ex-gay" rhetoric.
According to Hirsh, his doctor claimed that he was not in fact gay and could "cure" himself by mending fences with his father and playing sports. After four sessions and feeling deeply offended, Hirsh left the doctor's care. Then, at the urging of his parents, returned, at which point the doctor admitted to him that he had studied under an ex-gay proponent.
After quitting the shrink for good, Hirsh contacted the Southern Poverty Law Center, which promptly filed an ethics complaint against the unnamed doctor for espousing treatment that the American Psychological Association has explicitly condemned. They plan on doing the same against doctors in other states.
From the Las Vegas Sun:
The law center wants its anti-conversion effort to spur tougher restrictions and, down the road, more legislative action, such as what's occurring in California.

"Our immediate goal is for the APA to take these allegations seriously and ultimately ban conversion therapy by its members," [SPLC legal director Christine] Sun said.
…
The complaint specifies four alleged violations of medical ethics, including failing to provide treatment with informed consent.
Even the ex-gay proponents at the National Association for Research and Therapy of Homosexuality are condemning the doctor. NARTH's vice president of operations, David Pruden, told the Las Vegas Sun that it is "always unethical" to practice so-called reparative therapy without a patient's consent. The rest of us, meanwhile, know such treatments are always unethical – period.