Facebook co-founder Chris Hughes and his partner Sean Eldridge have made a $100,000 matching gift to Mainers United for Marriage, the group working to pass a ballot measure legalizing same-sex marriage there in November, the Bangor Daily News reports: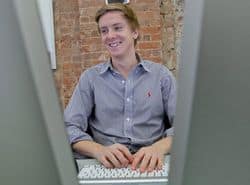 Mainers United for Marriage on Monday announced the fundraising challenge from Chris Hughes and his fiance, Sean Eldrige, president of Hudson River Ventures and senior adviser to Freedom to Marry. The campaign will have until June 7 to raise the matching funds.
"Voters in Maine have a historic opportunity to win marriage at the ballot [box] in November," Eldridge said in a press release issued by the Maine campaign. "We are encouraged by strong statewide support for the initiative and the top-notch campaign team that's in place, and we hope that our support will motivate others to invest in the campaign. With numerous marriage equality cases heading to the Supreme Court, there is nothing more important than growing momentum and winning the freedom to marry in more states."
Fundraising efforts will include direct mail and email solicitations, phone calls and the use of social media, David Farmer, spokesman for the campaign, said Monday.
Visit Mainers United for Marriage HERE.
Hughes, a native North Carolinian, vocally opposed Amendment One, which recently constitutionally banned gay unions there, but notably made no financial contribution to Protect All NC Families, the campaign which was opposing it.
Polling thus far for Maine's ballot measure has been very good. A Maine People's Resource Center poll in early April showed that 58% of likely voters supported the marriage equality ballot measure.