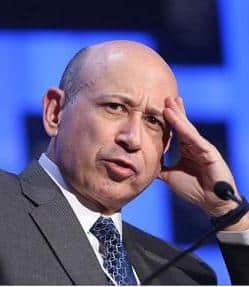 Lloyd Blankfein became a left-wing hero after the Goldman Sachs CEO came out in support of gay marriage in New York State. Not everyone, however, cheered the money man's decision. Blankfein told a crowd at the "Out on the Street" LGBT finance summit yesterday that Goldman Sachs has lost at least one client since he came out for equality.
At an event discussing Wall Street's role in pushing for greater lesbian, gay, bisexual and transgender equality across corporate America, Blankfein said his stance on the matter was "not without price."

Blankfein said there had been some "adverse reaction" on at least one occasion, where a money management client "did not want to continue a relationship" with Goldman in the wake of his advocacy.

"I won't say the name of the client, but if you heard the name, it wouldn't surprise you," he added.
Billionaire and fellow marriage advocate Paul Singer was also at the event and was asked whether he thought his preferred presidential candidate, Mitt Romney, would further alienate and discriminate against LGBT people.
"I don't think it's going to be a harsh environment," Singer said of a potential Romney administration.