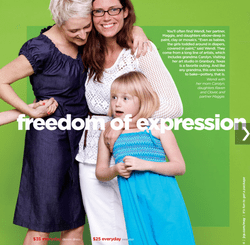 One Million Moms, the group that protested JC Penney's hiring of Ellen DeGeneres, have a fresh bee in their anti-gay bonnet. And, yes, it again concerns JC Penney's LGBT-inclusion.
JC Penney has infuriated the group after including a lesbian couple in their latest catalogue. "You'll often find Wendi, her partner, Maggie, and daughters elbow deep in paint, clay or mosaics," the store's "freedom of expression" advert reads, leading One Million Moms to revive their boycott.
OMM has so many issues to cover we had no choice but to move on earlier in the year but have decided to revisit this issue and speak out again. It is obvious that JCP would rather take sides than remain neutral. JCP will hear from the other side so they need to hear from us as well.
The group then offers the obligatory "take action" call, imploring supporters to confront store manager's about the lesbian couple. They ask: "What was the purpose in stating on page eleven that Wendi and Maggie are partners?" The answer is of course simple: because lesbians exist, have children and need to buy clothes, just like straight people.