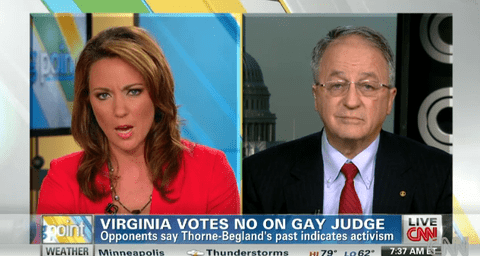 Bob Marshall, the GOP Virginia delegate who led the right against rejected judicial nominee Tracy Thorne-Begland for the openly gay prosecutor's past LGBT activism, appeared on CNN this morning to explain his decision.
Asked whether times need to change, just as they did with regard to the civil rights and women's rights movements, Marshall replied, "Dr. Martin Luke King and Rosa Parks never took an oath of office that they broke. Sodomy is not a civil right. It's not the same as the Civil Rights movement."
According to Marshall and his allies, Thorne-Begland's work against Don't Ask, Don't Tell put him at odds with the state.
In late 2011, [Thorne-Begland] was critical of the Don't Ask Don't Tell, he criticized our Attorney General simply for explaining what the law of Virginia is with respect to certain protected classes. So he's gone beyond that. He can be a prosecutor if he wants to, but we don't want advocates as judges.
Marshall also claims "there's an effort by homosexual lobbyists to link" sodomy with civil rights, which they can't, because being gay is a "pattern of behavior."
Watch Marshall explain himself, AFTER THE JUMP…