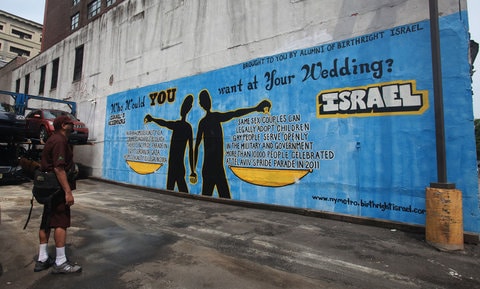 The Birthright Israel Alumni Community and a coalition of artists called Artists 4 Israel recently unveiled a new mural in New York's West Village that aims to compare and contrast the LGBT politics of countries in the Middle East.
The New York Times offers more details:
The mural shows the outlines of two men holding hands below the headline: Who Would YOU want at Your Wedding? The male figures also hold up two balancing scales that offer a stark contrast between the state of gay rights in Israel and in some of its Arabic neighbors.

Above one scale, the text notes that Israel lets same-sex couples adopt children, that "gay people serve openly in the military and government" there and that more than 10,000 people celebrated at Tel Aviv's 2011 Pride Parade.

On the other scale, labeled "Israel's neighbors," the text says that homosexuality is illegal in Syria and punishable by death in Iran. "There is no pride parade in Egypt, Jordan or Gaza," the mural reads.
Rebecca Sugar, director of Birthright's alumni group, told the paper, "There is only one country in the Middle East where you can live freely, as you are. The surrounding countries who accuse Israel of prejudice and bias are prejudiced and biased."
Others, however, described the mural as "Arab-bashing."
"[The mural is] blatantly divisive, opposing Israel against its neighbors in the region," said Adem Carroll from the Muslim American Civil Liberties Coalition. "Is this very negative messaging an encouragement to Arab nations to implement broader rights protections, or will it have a more negative backlash effect?"