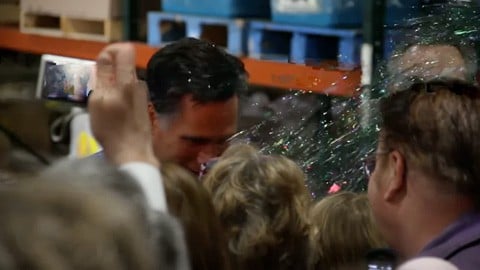 Pundits and press have been wondering whether or not the gay group Log Cabin Republicans will come out to endorse Mitt Romney ahead of the GOP's nominating convention this summer.
An endorsement would tacitly signal that the group approves of Romney's claims that he'll constitutionally ban marriage equality. Sitting on the sidelines, meanwhile, may diminish their role in the 2012 election and the Republican party as a whole.
The LCR is clearly well aware that they have to make a decision and have been participating in "ongoing" discussions with Romney's camp to see if they can — and should — work with him.
From the Christian Post:
Log Cabin Republicans, a gay political action group, is in "ongoing" discussions with Mitt Romney's campaign and the Republican National Committee on a variety of issues, said the group's director, which most likely includes same-sex marriage and employment discrimination policies. The group will be meeting over the summer to determine whether to endorse Romney prior to the GOP convention. 

"I can't confirm the details of our conversations because they are of a 'private nature,'" the group's Deputy Executive Director Christian Berle told The Christian Post. "We're in ongoing conversations with the Romney campaign and the RNC on the issues that are important to gay Republicans."

Earlier this week, the Los Angeles Times reported that Log Cabin Republicans founder Rich Tafel said that "I think he (Romney) does oppose gay marriage, but the speed with which he jumped on and rode that issue struck me as political."
Please, everything that man does is political.