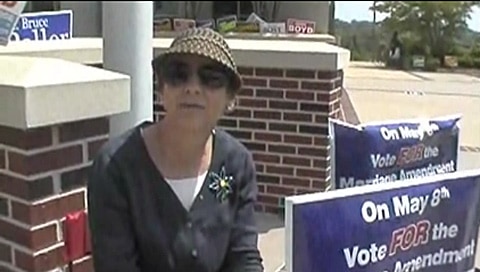 In reference to an earlier post, here's the video of Jodie Brunstetter, the wife of prominent state senator and Amendment One sponsor Peter Brunstetter, being questioned by Chad Nance, a North Carolina freelance journalist, over her alleged remarks about the ballot measure – that one of the reasons her husband had written it was to protect the Caucasian race.
Watch, AFTER THE JUMP…
Sen. Brunstetter told ThinkProgress,
"I know my wife does not think like that. She got very flustered (she is not a political person) and then someone came up to her and started shooting questions at her. She noticed later that there was someone video taping without her knowledge. My wife is one of the sweetest, most genuine people you will ever meet. Her convictions on the marriage amendment are spiritual in nature, not racial. The individual in question had been quite abusive and intimidating. The Amendment is not racially motivated, is quite simple and straightforward and, in fact, is widely supported in many areas of the African American community."
Note: Jodie Brunstetter acknowledges she is being filmed early on in the video.