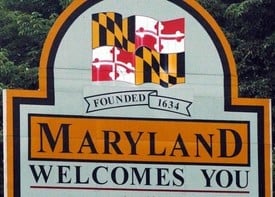 Big news out of Maryland, where gay marriage opponents are hoping to repeal the state's equality law this November.
Back in March, polls showed that 52% of residents supported the law, while 44% wanted repeal, but a new Public Policy Polling survey now shows a remarkable change: 57% of voters say they support marriage equality, while only 37% say they're against it, and PPP the switch is due to increased support for equality among African-Americans.
The movement over the last two months can be explained almost entirely by a major shift in opinion about same-sex marriage among black voters. Previously 56% said they would vote against the new law with only 39% planning to uphold it. Those numbers have now almost completely flipped, with 55% of African Americans planning to vote for the law and only 36% now opposed.
These numbers can be attributed in part to President Obama's recent endorsement of equality. Prior to the announcement, 41% of African-American voters supported same-sex marriage. That number has since jumped to 59%.
Considering this seismic shift, Steve Kornacki at Salon argues that the increasingly likely repeal defeat in Maryland will take the air out of a classic right-wing argument about gay marriage:
In Maryland, the surge in black support means that gay marriage is very likely to be approved by voters this fall. If that happens, opponents will no longer be able to make a claim they've been relying on for years – that everywhere gay marriage has been on the ballot, it's been rejected by voters. 

…

That will no longer be the case a few months from now, unless there's some kind of major, hard-to-envision shift in public opinion in Maryland.
"The anti-gay marriage crowd should probably enjoy their 0-for-32 talking point while they can, because it won't be valid for much longer," he writes.