In case it wasn't clear that the fight over Amendment One in NC has become an un-holy war, the Gaston Gazette reports: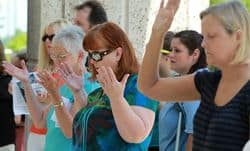 About 50 people gathered outside the Gaston County Courthouse for the annual National Day of Prayer observance.
"No apologies today. We're praying," said Ancil Overbey, executive director of the Crisis Pregnancy Center of Gaston County. "Marriage is God's institution, it's not ours. It is a crime that we are having to vote for this….But we are going to vote and we are going to vote as Christians."
An insert in the day of prayer program listed consequences of voting against the defense of marriage amendment, points against same-sex marriage and what the same-sex marriage debate is not about.
"God I pray today that we stand in unity. As we look to the state of North Carolina, we're at a pivotal moment," said Pastor Kevin Kellough of the Church of the New Testament of the Firstborn. "We are ready and equipped as the persons and the sons of God to stand in the gap and make up the hedge, for there is ungodliness trying to redefine marriage. God we reject the lifestyle, those that choose against nature, those who do not like to retain the knowledge of God in their hearts."
(h/t Pam Spaulding)