I could have sworn he was out already (maybe because of a September 2010 National Enquirer story about his engagement to his partner (see screenshot, AFTER THE JUMP…), but some folks are telling me that this casual NYT mention (on page 3 of a profile about his upcoming role in Harvey) is Jim Parsons' official coming out: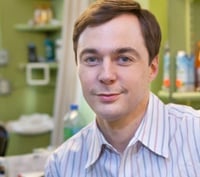 "The Normal Heart" resonated with him on a few levels: Mr. Parsons is gay and in a 10-year relationship, and working with an ensemble again onstage was like nourishment, he said. As the production was ending last summer, he heard that the Roundabout Theater Company was considering a revival of "Harvey" — initially with John C. Reilly under consideration for Elwood — and last November the play's director, Scott Ellis, asked him and Ms. Hecht to do a private reading of the work in Los Angeles.
If anybody can point to somewhere he's mentioned it (aside from mentioning his partner's name in a long list at an awards ceremony), please do so in the comments.
NE image, AFTER THE JUMP…