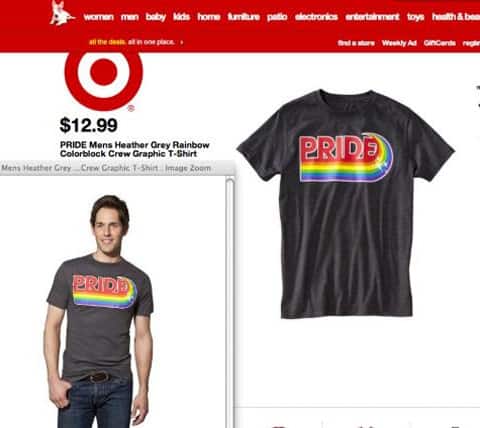 In a move that will surprise no one, the anti-gay haters at Family Research Council and the American Family Association are trying to rally their troops against Target after the retailer introduced gay pride apparel.
"If they're looking to resonate with Americans, they ought to try defending marriage. According to voters, the country's still very opposed to redefining it," said FRC president Tony Perkins, willfully ignorant that the most recent polls show majority support for marriage equality.
As for AFA, president Tim Wildmon claims Target is "ramming same-sex marriage down the throats of the American people." He also provides a form letter for supporters to express their archaic ire to Target Chairman Gregg Steinhafel. It reads:
Dear Chairman Steinhafel,

Thirty-one states have overwhelmingly voted for constitutional amendments to protect marriage as only between one-man, one-woman. And your company does business in all of these states.

That's why I can't understand why Target would purposely choose to offend me by donating cash to support the Family Equality Council's push for legalizing homosexual marriage.

I urge you to reconsider this promotion and stop supporting a gay marriage campaign.

Otherwise, I will reconsider shopping at your stores and choose making my purchases from your competitors.
Shoot, between this and the One Million Moms boycott against J.C. Penney, pretty soon there will be nowhere for right-wingers to shop.