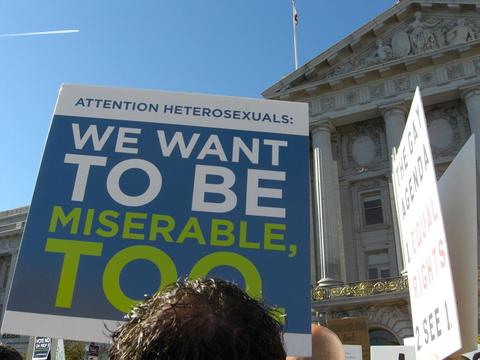 It is pretty safe to say that almost all Americans have by now heard about — and discussed — President Obama's support for gay marriage. And you can be sure that longtime allies have something to say about the news.
Richard Socarides, a former aid to President Clinton and currently one of the most outspoken proponents of equality, took to the New Yorker to offer his thoughts, writing that Obama has adjusted himself to a new American reality.
While [Obama's decision] was a useful electoral strategy, changes in public opinion and in the culture have created a new reality. Obama's political advisers badly underestimated the extent to which the marriage issue would remain at the forefront of the national discussion—and the determination of those of us who work to keep it there.

So while this is an important moment in civil-rights history, it is also an important moment in political history—in which the lesson, for the gay community and, perhaps, for anyone advocating for change, is that words are important, but we have to insist on action from our friends.
Meanwhile, legendary activist David Mixner told BuzzFeed that Mr. Obama's support will have "enormous impact" on state-based marriage decisions. "His words and his actions will have enormous impact across the nation in many states," he said. "It could influence referendums in Washington, Maryland, and Maine."
Mixner also said he's surprised by Obama's decision to announce before the election, but that timing is not the most important element here. "The whole purpose of working all these years to reach this moment for me is to change minds, not to punish people on their timing, but to celebrate when you reach a mutual point of enlightenment."
Gavin Newsom, the former San Francisco mayor who is now California's Lieutenant Governor and also a long-time equality advocate, said that Obama's announcement proves the president's salt.
"He's become, once again, the president we elected," Newsom said on Current's The Young Turks. Do you agree?