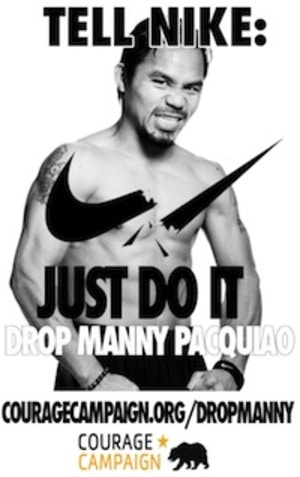 There have been some fast-moving developments in the queer case of Manny Pacquiao, the Filipino boxer who caused a stir this week by coming out against gay marriage.
First and foremost, the Courage Campaign is currently calling on Nike to drop Pacquiao as a spokesman.
Meanwhile, Pacquiao himself has clarified his remarks, saying, "I only voiced out my opinion that same-sex marriage is against the law of God. I'm not against homosexuals. I have a relative who is also gay. We cannot do anything if they were born that way. What I do not want is when you disobey the commandment of God."
And the entertainment show Extra will reportedly go forward with their interview with Pacquiao even though the entertainment complex where they shoot, LA's The Grove, has banned him.
The LA Times explains:
Pacquiao spokesman Fred Sternburg told The Times that the boxer will be interviewed by "Extra" host Mario Lopez at another location. The show is usually taped at The Grove.





Sternburg also said the controversy has been blown out of proportion by inaccurate comment's about his position. "[Manny's] not supportive of gay marriage, but he has nothing against gay people," he said.

The Grove announced the ban Tuesday evening.

"Based on news reports of statements made by Mr. Pacquiao, we have made it be known that he is not welcome at the Grove and will not be interviewed here now or in the future. The Grove is a gathering place for all Angelenos and not a place for intolerance," the Grove said in a statement.
…
In an interview with National Conservative Examiner, Pacquiao addressed President Obama's recent endorsement of gay marriage.

"God's words first … obey God's law first before considering the laws of man," Pacquiao told the Examiner. "God only expects man and woman to be together and to be legally married. It should not be of the same sex, so as to adulterate the altar of matrimony, like in the days of Sodom and Gomorrah."
You can be sure that Mario Lopez will have plenty to discuss with the pugilist.