Yesterday I posted about Virginia Delegate Bob Marshall's campaign to reject Tracy Thorne-Begland (pictured), a Richmond attorney, from a list of proposed District Court judicial appointments, because Thorne-Begland is gay.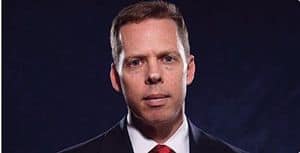 Marshall won, the WaPo reports:
The House of Delegates voted 33 to 31, with 10 abstentions, to make Richmond prosecutor Tracy Thorne-Begland a General District Court judge in Richmond. He had needed 51 votes in the 100-member chamber to win appointment.
"He holds himself out as being married," said Del. Robert G. Marshall (R-Prince William), who is running for U.S. Senate. Noting that gay marriage is not legal in Virginia, he said that Thorne-Begland's "life is a contradiction to the requirement of submission to the constitution."
Said Sen. Adam P. Ebbin (D-Alexandria), Virginia's first openly gay senator: "The debate in the House of Delegates was homophobic and embarrassing and showed a disrespect to a chief deputy commonwealth attorney and decorated veteran who was honorably discharged. It's offensive that the Senate wouldn't even grant Lt. Thorne-Begland the courtesy of a vote."