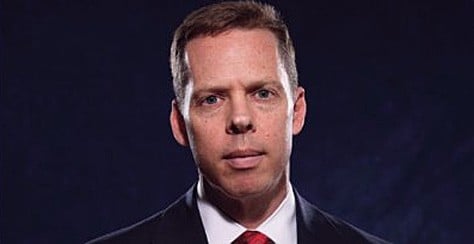 Readers of this site will be familiar with Virginia Delegate Bob Marshall (below, right).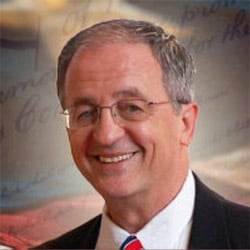 He's the guy who last year launched an unsuccessful campaign demanding the Richmond Federal Reserve Bank remove its Gay Pride flag. He also launched an unsuccessful attempt to block gays from serving in the Virginia National Guard.
Now he's trying to remove Tracy Thorne-Begland (above), a Richmond attorney, from a list of proposed District Court judicial appointments because Thorne-Begland is gay.
Says Marshall in a press release:
The judgeship nominee is Tracy Thorne-Begland, a Richmond attorney identified by Marshall (R., Manassas) as "an aggressive activist for the pro-homosexual agenda."
"After more than a week of pleading by some Republican Caucus members," Marshall said, "the House Republican leadership has so far declined to removed Mr. Thorne-Begland's name from the block of nominees," Marshall said.  "If this situation remains unchanged, I will offer an amendment to remove his name."
Marshall questioned whether Thorne-Begland can swear to the oath required of Virginia's judges in which they pledge to abide by the state's constitution "if he has already indicated by his past public actions that he does not support its provision 'that only a union between one man and one woman may be a marriage valid in or recognized by this Commonwealth and its political subdivision.'"
Thorne-Begland lives with a 'partner" with whom he has a formalized homosexual union, Marshall said, and they have two adopted children.  Thorne-Begland has been active in the national homosexual advocacy group, Human Rights Campaign, and with Equality Virginia, of which he is a former board member.
Marshall pointed out that Thorne-Begland was serving as a Navy aviation lieutenant in 1992 when he went on national television to disclose his homosexuality, then was discharged under the "don't ask, don't tell" military regulation on homosexuality then in force.  Thorne-Begland sued the Defense Department, alleging that his right to free speech had been restricted, but he lost the case on appeal to the U.S. Court of Appeals for the 4th Circuit in Richmond.
"Mr. Throne-Begland joined the Navy under clear rules on homosexuality that he challenged when he sued the Department of Defense to change DADT," Marshall said.
"Would Mr. Thorne-Begland also challenge rules that apply to Virginia courts?  Can this candidate swear the required oath to support our state' constitution if he has already indicated by his past actions that he does not support that section of our constitution barring same-sex legal relationships?
"While our judges and judicial candidates certainly have a right to free speech, they do not have the right to disregard the Virginia constitution"
The Washington Post adds:
Marshall's statement followed one issued Friday by the Family Foundation of Virginia, which also contended that Thorne-Begland was unfit for the bench because he had spoken out against "don't ask, don't tell" and in favor of same-sex marriage.
Thorne-Begland declined to comment over the weekend, saying via e-mail that it would be improper for him to do so as a judicial nominee. He referred questions to his sponsor in the House of Delegates, Del. G. Manoli Loupassi (R-Richmond).
Loupassi said that Thorne-Begland was "absolutely well qualified" for the post and that his public statements about gay rights do nothing to diminish his fitness for the bench.
Loupassi noted that two former delegates who've made their own public statements on a variety of political issues — C. L. "Clay" Athey Jr., a Republican from Warren; and Clarence E. "Bud" Phillips, a Democrat from Southside — are also among the nominees under consideration.