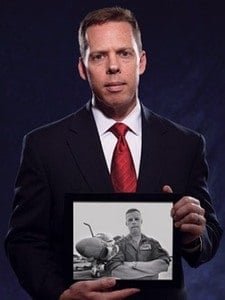 There's still a chance that openly gay lawyer Tracy Thorne-Begland could become a District Court judge in Virginia.
Though GOP lawmakers rejected his appointment last month, there's increased pressure from lawmakers and other high-ranking state officials to get Thorne-Begland on the bench.
According to the Washington Post, five of Virginia's largest law firms wrote to the state's General Assembly urging them to reverse course.
"We understand that the Court is considering appointing Tracy Thorne-Begland to the District Court for the City of Richmond," they wrote in a letter to Richard D. Taylor Jr., presiding judge of the Circuit Court. "We believe he would be an outstanding jurist and support his appointment."
Taylor Jr. has the power to appoint Thorne-Begland when the General Assembly is out of session, but that hypothetical decision could be overturned.
Read more AFTER THE JUMP.
Even if that route fails, there also appears to be a shift among GOP leaders who originally voted against Thorne-Begland. A local NBC affiliate reports that Republican Delegate Richard Morris has reversed his position on Thorne-Begland's potential appointment:
According to a memo obtained by the Richmond Times-Dispatch, Morris says he's reversing his decision after an extensive review of Thorne-Begland's military past.

Several lawmakers say they were opposed to Thorne-Begland's election to the bench because he violated the military's the 'Don't Ask, Don't Tell' policy when he came out on national television back in 1992. Some conservative delegates also believed he would pursue a gay rights agenda from the bench.

Morris' support comes after several prominent lawyers wrote the court in support of Thorne-Begland. A Richmond City Councilmen also proposed a resolution backing the former Navy pilot.

Senator Donald McEachin is praising Delegate Morris, releasing a statement that reads in part, "In this action, Delegate Morris has shown himself to be truly serving the public and willing to do what is best, regardless of previous statements of partisanship".
Leopards can indeed change their spots.