Obama's set to appear at a major L.A. fundraiser tonight, NYT's Caucus reports: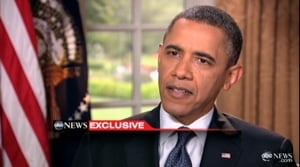 The annual fund-raising dinner of the LGBT Leadership Council, which Mr. Obama formed in 2007 for lesbian, gay, bisexual and transgender supporters as his first presidential campaign got underway, had to be moved from the hotel site initially chosen for the gala to the larger Regent Beverly Wilshire hotel, to accommodate the increased demand. Tickets for the gala sold out, as did far more expensive ones for a private dinner that follows.
According to the Obama campaign, about 600 people paid at least $1,250 each to attend the gala, which also will feature television star Ellen DeGeneres and a performance by Darren Criss, who plays an openly gay high school student in the hit TV show "Glee." Mr. Criss is a last-minute replacement for the rock singer Pink, who had to cancel due to illness, organizers said.
For $2,500, an attendee receives preferred seating; for $10,000 a photo with Mr. Obama; and for $25,000 a couple, inclusion in a reception. After the gala, about 70 people — individuals who paid $25,000 and couples who paid $40,000 – are to join Mr. Obama for dinner at the Los Angeles home of "Glee" creator and gay-rights activist Ryan Murphy and his fiancé, David Miller.