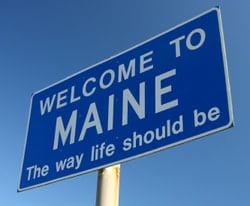 Mainers United For Marriage had some good news to announce today. The group, currently fighting for nuptial equality in the Pine Tree State, have raised more than $1 million.
Via Seacoast Online:
The coalition spearheading a campaign to legalize gay marriage in Maine says it has raised more than $1 million and has had one-on-one discussions about November's referendum with more than 100,000 residents.

Mainers United for Marriage held a press conference at the State House in Augusta on Thursday to mark the one-year anniversary on when it took out papers to launch its citizen's initiative to force a statewide vote on whether to allow same-sex marriage.

Campaign officials say they've now collected more than $1 million in donations and pledges, with 64 percent of the contributions coming from Mainers.
Spend that money wisely, Mainers, because ad time can get pricey, and who knows what tricks conservatives may have up their collective sleeve.