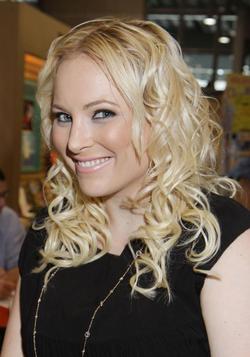 Meghan McCain told Michelangelo Signorile exactly what she thinks of Republican gay group GOProud. They're a "rogue group that has publicly said very nasty things about me, very nasty things" and "the type of gay Republicans that I think exacerbate the stereotype," McCain told Signorile on his radio show.
The always outspoken McCain, daughter of former GOP presidential candidate John, went on: "Ann Coulter is who they had speak at one of their conventions and was touted as some kind of icon, a woman who uses gay slurs on television. In gay Republican circles, GOProud are not respected. They do not like me and I do not like them."
A member of the Log Cabin Republicans, McCain was also adamant that not all gay Republicans are self-loathing.  "They just believe in their country being run a certain way. And until I think the Democratic Party comes out and actually passes legislation, we're not impressed."
I'm not impressed with Obama going on TV and saying, 'I have gay friends and I think they should get married.' That to me is the same thing as saying, 'I have black friends and they should get married but I'm not actually going to pass legislation that interracial marriage should happen.' If you put it in those terms it's a completely different situation.

And the fact that people just seem to be okay with President Obama doing that, as far as I'm concerned, he's not doing enough for the gay community and it's not enough to sway me. I'm glad it's okay with you guys but it's not enough for me. I know lots of gay people that are voting for Romney, because I think in America, people aren't one-issue voters.
To many people, though, marriage is more than just a single issue: it's economic, philosophical, religious, romantic… The list goes on.