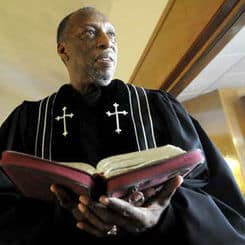 The Grace Community United Church of Christ in St. Paul, MN, is confirmed rumors that it's looking for new digs after a majority of the congregation left over the pastor's support for equality.
From the Star-Tribune:
A St. Paul church faced with closing after most of the congregation left over the pastor's support of gay marriage said Friday it's leaving its worship space and will look for a new church home.

Grace Community United Church of Christ, the only UCC church in Minnesota with a predominantly black congregation, declined to extend its Saturday deadline to raise about $200,000 to pay off a high-interest loan and legal fees, said church pastor the Rev. Oliver White (pictured).

After days of tense negotiating this week between the church and the investor holding the loan, Grace leadership decided it did not want to keep paying to stay in the beige stucco building on the east side of St. Paul.
Rev. White says that he has received about $55,000 in donations and hopes to buy a new church that will welcome all people. He also says that this experience, though trying, only reinvigorated his faith.
"I'm overwhelmed with a lot of belief in the power of humankind," he told the paper. "It's been an amazing display of human kindness. There will be sadness [when the congregation leaves]. But it's still a building. We are the church. We don't have to be in that building to be Grace Community Church."