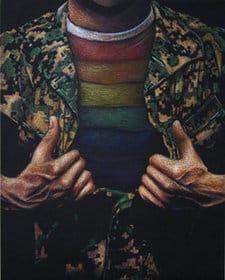 The team at Servicemembers Legal Defense Network and other concerned citizens are celebrating the introduction of a House bill that will guarantee military men and women's same-sex spouses the same rights as their straight counterparts.
From the bill:
…An individual shall be considered a 'spouse' if the marriage of the individual is valid in the State in which the marriage was entered into or, in the case of a marriage entered into outside any State, if the marriage is valid in the place in which the marriage was entered into and the marriage could have been entered into in a State.
Remarking on the bill, which Democratic Rep. Adam Smith of Washington State unveiled yesterday, SLDN executive director Aubrey Sarvis said, "[House Armed Services Committee] Ranking Member Smith has recognized with the introduction of this legislation today that 'Don't Ask, Don't Tell' repeal – while a monumental achievement for gay and lesbian service members and all Americans – does not finish the job of ensuring full equality for these brave patriots and their families."