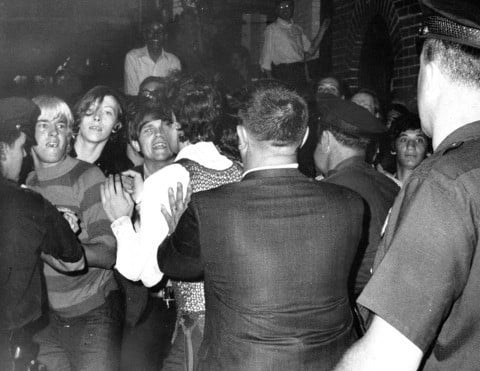 Last weekend may have been gay pride for many of us, but today, June 28th, is the 43rd anniversary of the night that started it all: the Stonewall Rebellion.
To commemorate the event, HRC National Field Director Marty Rouse shares his own experience with pride's earlier days.
In June of 1969, I was an eight year-old boy growing up on Long Island, NY. Little did I know that only about 30 miles from my suburban home, a group of gay, lesbian, bisexual and transgender people were about to change the world for millions of Americans – including me.  These brave citizens had decided that it was time to stand up to harassment from police society in general.

Today, we now consider the "Stonewall Rebellion" or "Stonewall Riots" the beginning of the modern-day LGBT rights movement in America.  The first public "Gay Pride March" in New York took place one year later to commemorate "Stonewall."
…
As we commemorate the 43rd anniversary of the Stonewall Rebellion we must salute those who fought, suffered and died because of society's homophobia and transphobia, but we also must celebrate how far we have come as well.  And, for sure, we must continue to tell the story of Stonewall and continue to fight for full LGBT equality so that today's eight year-olds can grow up free and thrive and enjoy the wonders there are in this world.
Do any of you readers out there have memories either of the Stonewall Rebellion or your first gay pride? If so, please do tell in the comments.