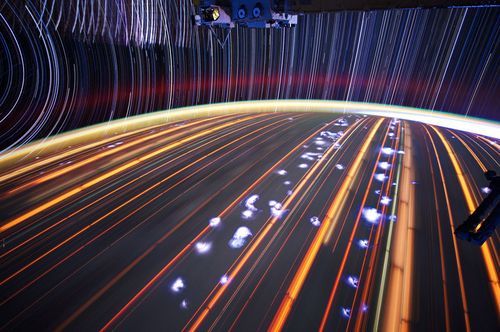 Don Pettit's photography — pictures "taken 240 miles up in space by combining multiple 30-second exposure photos, and then stacking them together with imaging software." Star trails, city trails, gorgeous.

CNN has a feature on the Maryland divorce case Andy briefly discussed here.

Rick Santorum has a new PAC, presumably so he can run semi-anonymous attack ads.

Yea gods! This woman castrated a guy with her hand!

50 years hence there will be statues of Bill Gates, and Steve Jobs will be forgotten.

Egyptian women are sexually assaulted during a protest against sexual assault.

"Catholics, Gays, and a Parallel Universe":
I sometimes think of Canada as one of those science-fiction parallel universes — a world strikingly similar to but slightly different from our own.  The differences can be illuminating.

In Ontario a controversy has been raging, as they say, involving legislation that would require schools to sponsor Gay-Straight Alliances, the anti-bullying clubs that some social conservatives see as Trojan horses for the "gay agenda." (They're right, if by gay agenda they mean recognition that gay and lesbian students exist and should feel good about themselves and their sexuality.)

The twist is that Roman Catholic schools in Ontario receive government funding. 

The archbishop of Toronto, Cardinal Thomas Collins, had complained that GSAs include an agenda that does not comport with Catholic teaching …

Nevertheless, after the bill was approved, Collins issued a statement recognizing that it "is now the law" and that Catholic schools "will seek, as we have always done, in a way that is in accord with our faith, to foster safe and welcoming school communities." The  Ontario Catholic School Trustees Assn. said it had no intention of challenging the provision in court.

At a time when U.S. Catholic bishops are crying foul — or crying wolf? — about intolerable intrusion on their religious liberty in the form of "Obamacare" regulations, it's interesting to speculate how they would react to a law like Ontario's GSA requirement …

Gay Pride in Tel Aviv.
God's getting nicer.

On the prescience and darkness of Ray Bradbury:
There's already been a lot of rhapsodizing about Ray Bradbury's "sense of wonder," the dark magic and October chill he infused into his work. But let's not turn him into something harmless, a kindly, childlike uncle spinning marvelous tales of rocket ships and dinosaurs. Don't forget that he was also the crazy uncle, the dangerous one, a malcontent and a crank, alarming everyone at the dinner table with impassioned rants and dire warnings. (For a bracing antidote to his sentimentality, reread the demented revenge fantasy "Usher II," in which an entire board of censors is meticulously killed off after the manner of Edgar Allan Poe stories.)

The obverse of his reverence for the natural world was a keen-edged contempt for the greedy men and crass, destructive culture that would gladly bulldoze it for a buck. "We Earth Men have a talent for ruining big, beautiful things," says the archæologist Jeff Spender in "—And the Moon Be Still as Bright" from "The Martian Chronicles." "The only reason we didn't set up hot-dog stands in the midst of the Egyptian temple of Karnak is because it was out of the way and served no large commercial purpose." There isn't a hot-dog stand at Karnak yet, but I'm advised there are tourist shops selling pricey bottled water and Pharaonic souvenirs made in China.