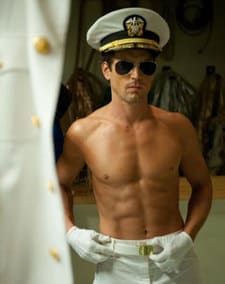 Mark-Paul Gosselaar does not understand the beauty of Saved by The Bell.

Matt Bomer makes one hot dad…

…And he looks nice shirtless, too.

Yet another study shows that homophobia harms.

According to the tabloids, Miley Cyrus and Liam Hemsworh are engaged. 

Gays in New Zealand are hoping Lady Gaga can help their equality cause.

"It is more frontal assault on impressionable kids who are trying to figure it all out," says conservative comic publisher Art Ayris about the gay Green Lantern.

Rep. Steny Hoyer's daughter, Stefany Hoyer Hemmer, has come out. "The momentum in Maryland right now for the adoption of the gay marriage law is fast-paced. I'm 43 years of age, and I've been gay my whole life and I just figured this is a good time to lend my name to the cause."

Logan Marshall-Green once played a shark in a play. The costume was a fin and speedo. It was a great 90-minutes.

Would you take reading advice from the Vatican?

And did you see Venus pass by the sun? Won't happen again for over a century.

Michelangelo Signorile interviews Zach Wahls at Netroots.

Testing for Down's syndrome. Discuss.

Grindr and pride. Erm, discuss?

CNN contributor Dana Loesch praises hateful 14-year old who claims Obama makes people gay. "Another conservative teen under attack for being … a conservative teen."

Mariah Carey's children are more well-traveled than probably most of us.

Headline of the day: "One Direction, or Both Ways?" Boy band examination.

The Enterprise space shuttle in front of the Statue of Liberty. There are no words.