The Ninth Circuit Court of Appeals has posted an alert that it will file a brief tomorrow in Perry v. Brown, the Prop 8 Case: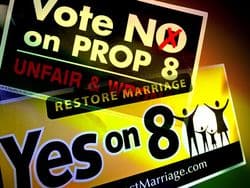 KQED's Scott Shafer said this is almost surely the decision on whether to rehear the case en banc. An en banc panel is made up of 11 judges, chosen at random from the circuit.
If the 9th Circuit denies the request, Prop 8 supporters will almost certainly ask the United States Supreme Court to hear the case.
Towleroad's Ari Ezra Waldman wrote back in February, regarding the upcoming decision:
If granted, an en banc rehearing allows the judges of the Ninth Circuit to do precisely what the 3-judge panel just did — affirm or reject Judge Walker's decision declaring Prop 8 unconstitutional. It allows them to pass judgment on the panel's narrow holding that focused on Romer and the taking away of rights already granted. So, the Prop 8 Proponents may think they have only upside from an en banc rehearing: The larger court could deny rehearing or grant and affirm on the same narrow grounds, in which case they are no worse off; the judges could grant rehearing and uphold Prop 8, in which case Proponents come out of the Ninth Circuit winners; or, the judges could grant and overturn Prop 8 on the broader due process and equal protection grounds that Judge Reinhardt left untouched. The Prop 8 Proponents could see that broader holding as a long-game victory because it would give the Supreme Court more room to reverse and uphold Prop 8.
If that counterintuitive strategy is part of Proponents' logic, it is nothing but risky. It assumes a broader holding would be more ripe for rejection at the Supreme Court than the current narrow one (which is not clear to me at all), but seems to discount the likelihood that the Supreme Court, relying on Justice Kennedy's broad holdings, could reject Prop 8 and all marriage bans on due process and equal protection grounds, in general (which could be on the table with a broader Ninth Circuit holding).
We cannot prognosticate at this point. But, we can recognize that the petition for rehearing en banc has only upside for the Prop 8 proponents, and it is not simply a frivolous matter of delay.