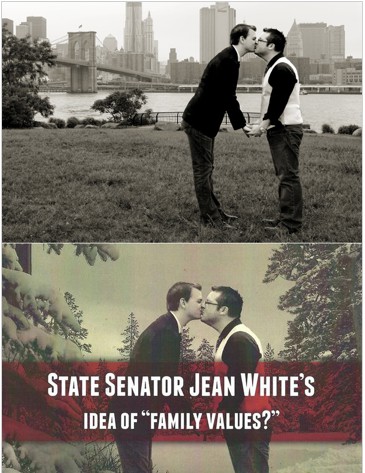 On Thursday, Andrew reported on the hideous repurposing of a gay couple's wedding photo for use in a political attack ad in Colorado. The ad was created by a third-party group supporting Republican Rep. Randy Baumgardner, who's looking to unseat Republican Sen. Jean White, of Hayden. Rep. Baumgardner accuses Sen. White of "joining Denver liberals attacking traditional marriage" by twice voting for a civil unions bill. (Sen. White has a gay niece and nephew.)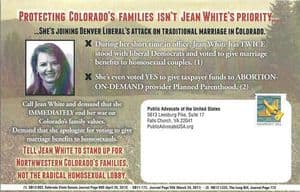 The couple pictured in the ad have nothing to do with the political campaign. In his previous report, Andrew quoted one of the men, Brian Edwards, who wrote movingly of the photo-pilfering on his blog:
I want to share what this picture means to me. It represents my first home away from home, my beloved NYC, which at the time this image was taken (2 years ago) did not allow same sex couples to marry. It represents my longterm relationship with my best friend, my partner, and now husband – the love we share and obstacles we have overcome. It is a reminder of the happiness I felt the day he proposed to me and of the excitement I had all throughout our engagement. It represents hope and it represents love. Or at least it did…
 The group responsible for the ad is called the Public Advocate for the United States, which the Southern Poverty Law Center has labeled a "hate group." They've caught wind of the controversy generated by their ad, and they've issued a statement. From the Denver Post:
Eugene Delgaudio, the president of Public Advocate, was asked via e-mail why his group used that picture and whether there were concerns about copyright infringement.

He responded: "We are a non-profit and make no money from any photos, postings, references, parodies, street theater or educational materials. Other groups make fair use of our materials or 2000 photos from our website under these broad principles of political education and we acknowledge a limited use of many of our own materials, by other groups, under parody, some fairly strong critical attacks from our political opposition on our efforts as part of a robust debate."
No apologies, then. Presumably, it wouldn't strike Delguadio as particularly unethical for a rival political group to use pictures of his own family in an attack ad — especially since he, unlike the couple whose picture he pilferred, is a public combatant in the political arena. Or maybe he has a different standard for straight folks.