General Mills spit in Brian Brown's Cheerios yesterday when it declared its opposition to Minnesota's anti-gay marriage amendment.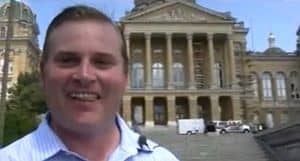 NOM's Brown:
"Marriage as the union of one man and one woman is profoundly in the common good, and it is especially important for children," said Brian Brown, NOM's president. "General Mills makes billions marketing cereal to parents of young children. It has now effectively declared a war on marriage with its own customers when it tells the country that it is opposed to preserving traditional marriage, which is what the Minnesota Marriage Protection Amendment does."
"This will go down as one of the dumbest corporate PR stunts of all time," said Brian Brown. "It's ludicrous for a big corporation to intentionally inject themselves into a divisive social issue like gay marriage. It's particularly dumb for a corporation that makes billions selling cereal to the very people they just opposed."