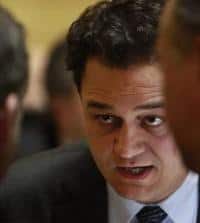 Mere weeks after Gov. Lincoln Chafee ordered the state to recognize same-sex marriages performed out of state, House Speaker and longtime gay ally Gordon Fox says he plans to schedule another vote on equality next year.
…Fox told WPRI-TV's "Newsmakers" Friday he will schedule a vote early in the General Assembly session. He called the legalization of same-sex marriage "unfinished business" and "one of the main reasons" he's running again.

Fierce opposition from some last year prompted the Legislature to abandon a gay marriage bill and approve civil unions instead. Senate President Teresa Paiva Weed was among the opponents.

Marriage Equality Rhode Island says it "appreciates" Fox's commitment to holding a vote and that all eyes have turned to the Senate. The group says it's working with others to elect lawmakers supportive of gay marriage.
A Public Policy Polling survey conducted last year that 50% of Rhode Island citizens want to see marriage equality pass, while only 41% oppose it.