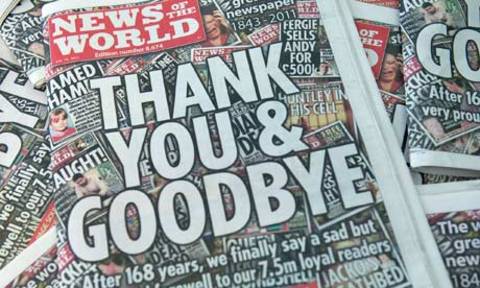 After enduring about 24-hours of rumors, Rupert Murdoch's News Corp. confirmed today that they're splitting their newspaper holdings, including the New York Post and the Wall Street Journal, from their more lucrative film and television division.
…The split will be completed within the next 12 months, with Mr. Murdoch serving as chairman of both companies and chief executive of the entertainment business. Chase Carey will remain chief operating officer of the entertainment group, which will include cable channels like FX and Fox News, the 20th Century Fox studio and Fox Broadcasting. In the coming months, the board of directors will decide who will lead the publishing business.

"News Corporation's 60-year heritage of developing world-class brands has resulted in a large and unparalleled portfolio of diversified assets," Mr. Murdoch said in a statement. "We recognize that over the years, News Corporation's broad collection of assets have become increasingly complex."

He added: "We determined that creating this new structure would simplify operations and greater align strategic priorities."
The move of course comes after Murdoch's cronies at the defunct News of the World and perhaps other outlets were revealed to have hacked into the phones of dozens of people, including a murdered teenage girl, and to have paid off police to keep their secrets. Murdoch was described by Parliament as "unfit" to lead his company.
But surely this split is an independent development, right? Just a coincidence?