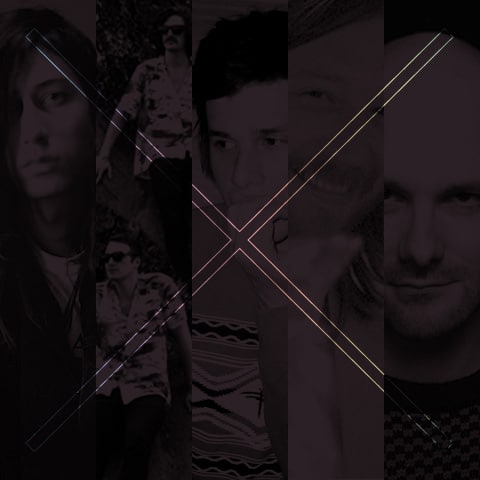 BY OCCUPY THE DISCO / TADEU MAGALHÃES
The OXD Mirror is a weekly music column brought to you by the boys of OCCUPY THE DISCO (OXD), a New York City based movement created by three music lovers, Ru Bhatt, Josh Appelbaum, and Tadeu Magalhães, who want to share their love for disco, house and dance music with the world.
1. Kindness: 'Gee Up (Erol Alkan Extended Rework)'
British producer Kindness is on a mission to make the world of pop music better—through disco. With his intriguingly-entitled first album World, You Need a Change of Mind, he has been able to establish himself as one of the most solid new artists at the moment. His latest single, 'House,' has a very sweet video where he briefly explains his point of view and also teaches a child the basics of dance music. If you ever thought electronic music is soulless and just noise created by nerds with their computers in a basement, Kindness is set to prove you wrong. In addition to the original version of 'House,' the single includes a remix for the album track, 'Gee Up.' The song is reworked by Erol Alkan, who has remixed Hot Chip, Saint Etienne, Daft Punk, Scissor Sisters and Metronomy, to name a few. We expect this killer disco track to rise in play count rather quickly, not only on our iPods but hopefully with your local DJs as well.
2. Softwar – 'This Time Around'
Endorsing the 90's house comeback, Sydney duo Softwar released 'This Time Around,' a track that is pure house bliss and throwback to a past era. This song is part of an EP with the same title and is only their second release so far. Be sure to play this on a good sound system or you might miss on the notably strong and vibrant bassline.
3. Le Youth – 'Dance With Me'
L.A. based Le Youth (Wes James) has joined the tropical-meets-90′s-R&B buzz with a great new track, 'Dance With Me.' The track, which can be downloaded for free here, borrows some familiar lyrics from TLC's hit 'No Scrubs.' Le Youth is still making his first steps into the dance scene, and though he has yet to have any official releases of his own, the remixes we've encountered show his potential to becoming a big name in the near future.
MORE NEW TRACKS, AFTER THE JUMP…
4. Lovelock – 'Maybe Tonight'Lovelock is the codename for NYC based producer Steve Moore, who has a very wide range of signatures for various projects, from commercial to personal work. His track, 'Maybe Tonight,' made its first appearance on Chromeo's DJ-Kicks compilation in 2009, and now in 2012 has finally gotten a proper release on Lovelock's debut album Burning Feeling. The italo-disco ballad was also tweaked by house music legend Morgan Geist (of Metro Area) who managed to enhance every great aspect of the song and turn it into a masterpiece. 5. Bottin feat. Jupiter – 'Sage Comme Une Image (Spiller Remix)'Italian producer and designer Bottin teamed with the Parisian duo Jupiter to create this great disco song with a French touch. To make things even better, fellow Italian DJ Spiller brought the tempo up to a perfect late night beat, making this a track that will bring any dancefloor down. On another note, Jupiter has just released their debut album, Juicy Lucy, filled with disco and electro-pop tunes. Needless to say we highly recommend it. OCCUPY THE DISCO (OXD) curates and recommends music events to the gay community in NYC—in an effort to move the focus of the nightlife scene beyond the promoter and venue and to the music itself. OXD's goal is to educate, entertain, engage and empower the gay audience to reclaim their ability to question and experience the unknown. The OXD Mirror will serve to showcase tunes that are definitely off-the-beaten-path but rightfully deserve the attention of the gay ear. It's music that will make you dance, dream, and most importantly, love.This week's post was written and curated by Tadeu Magalhães.For more information on OXD, check out our website and accompanying blog at www.occupythedisco.com, like us on Facebook, or follow us on Twitter: @OccupyTheDisco.