The Boston Globe will not be publishing a correction to its story alleging Romney misrepresented the timing of his departure from Bain Capital by three years, a falsehood which according to FactCheck.org could be a felony offense.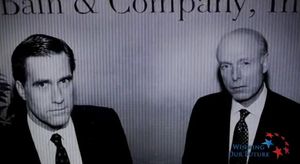 Editor Martin Baron, wrote, in part, in response to demands for a correction from the Romney camp:
The Globe story was based on government documents filed by Bain Capital itself. Those described Governor Romney as remaining at the helm of Bain Capital as its "sole stockholder, chairman of the board, chief executive officer, and president" until 2002. The story also cited state financial disclosure forms filed by Romney that showed he earned income as a Bain "executive" in 2001 and 2002, separate from investment earnings.
The Globe story accurately described the contents of those documents.
Meanwhile, Romney has said that he was at Bain for 25 years. Was he accidentally telling the truth?