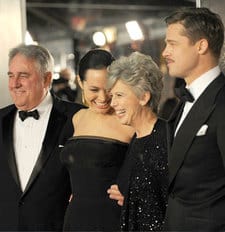 UPDATE III: The News-Leader is now saying that the letter was in fact written by Mrs. Pitt.
To clear up earlier confusion, the News-Leader has verified the letter writer is the mother of actor Brad Pitt and local businessman Doug Pitt.
UPDATE II: Despite the paper's claim that this letter was indeed written by Jane Pitt, ThinkProgress now reports that it was not Jane Pitt.
Last month, the News-Leader in Springfield, Missouri, published a reader's letter asking voters to reject Mitt Romney because of his Mormon faith.
"Mormonism teaches, by the statements of their leaders and sacred writings, what some Christians would consider to be the inherent inferiority of women in the sense that they believe only Mormon men can hold the 'priesthood' or rise to leadership positions in the church," wrote reader Richard Stoeker. "Traditional Christians believe in gender equality. They believe Mormon theology denigrates women."
In response, a woman named Jane Pitt, which is the same name as Springfield-born actor and gay marriage activist Brad Pitt's mother, wrote a response lambasting the letter, "Barack Hussein Obama" and marriage equality.
Here's the letter:
I have given much thought to Richard Stoecker's letter ("Vote for Mormon against beliefs," June 15). I am also a Christian and differ with the Mormon religion.

But I think any Christian should spend much time in prayer before refusing to vote for a family man with high morals, business experience, who is against abortion, and shares Christian conviction concerning homosexuality just because he is a Mormon.

Any Christian who does not vote or writes in a name is casting a vote for Romney's opponent, Barack Hussein Obama — a man who sat in Jeremiah Wright's church for years, did not hold a public ceremony to mark the National Day of Prayer, and is a liberal who supports the killing of unborn babies and same-sex marriage.

I hope all Christians give their vote prayerful consideration because voting is a sacred privilege and a serious responsibility.
There's no confirmation that this Jane Pitt is indeed Brad Pitt's mother, but if it is, this could prove embarrassing for the actor.
UPDATE from Missouri gay group PROMO, via comments: "I'm with the state advocacy group PROMO. The News-Leader did confirm that it is in fact Brad's Mother."