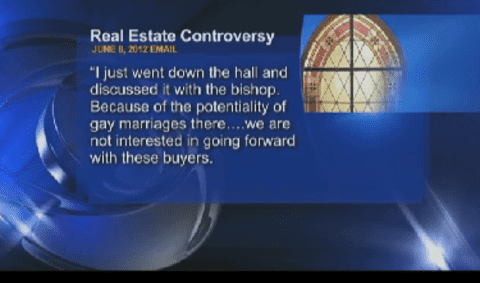 Alain Beret and his partner Jim recently put in a $1 million offer on a Worcester, Massachusetts, home and land being sold by the local Catholic Diocese. They hoped to renovate the historic location and then rent it out for weddings and other memorable occasions.
Things seemed all well and good until, seemingly out of the blue, the Diocese canceled the sale. Later, while reviewing the paper work, Beret noticed an emailed accidentally forwarded by Monsignor Thomas Sullivan that ordered the realtor to put the kibosh on the sale lest the venue be used for same-sex marriages.
"Because of the potentiality of gay marriages there….we are not interested in going forward with these buyers," reads the memo obstained by CBS Boston. "I think they're shaky anyway. So, just tell them that we will not accept their revised plan and the Diocese is making new plans for the property. You find the language."
Though the church rejected another, higher offer made by Beret, a lawyer, he says he will continue his efforts, "I have lived almost 60 years quietly in the mainstream, and I would like to continue that, but I will not do that at the expense of my dignity." He also may file a lawsuit.
"This is a state centered transaction, this is not a Church transaction, this is not a theological discussion, it's nothing more than that. I believe the Church has engaged in an activity that may be illegal in Massachusetts," he said.
Watch video of the CBS Boston report AFTER THE JUMP.