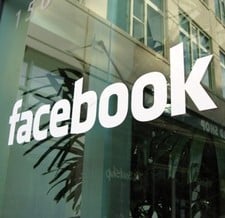 Facebook's much-touted stock took a hit today after the social media company offered a mixed earnings report.
BusinessWeek offers the details:
To Wall Street, at least, Facebook (FB) just belly-flopped its first earnings report as a public company. The social network reported second-quarter revenues of $1.18 billion, up 32 percent from the same quarter last year, narrowly beating analyst estimates.

But marketing and sales expenses quadrupled to $392 million, share-based compensation swelled, and margins fell from 53 percent a year earlier to 43 percent. Wall Street hated a lot of that, pummeling an already bruised stock. At one point during after-hours trading, the stock hit $23.75, an all-time low.
Facebook's initial public offering price was $38/share back in May, when it first hit the markets. It closed today down $2.50 at $26.84.