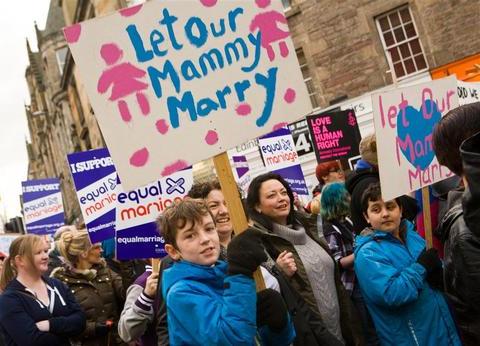 The marriage equality debate is really heating up in Scotland, where lawmakers say they'll reveal plans for to proceed on same-sex nuptials this week, a move that will put further pressure on Parliamentarians in England.
"I would be surprised if marriage equality were brought in in Scotland but not in the rest of the UK," MSP Joe Fitzpatrick told Huffington Post UK. "The UK's going to have to catch up."
Hoping to put the brakes on any inclusive new laws, the Catholic Church in Scotland vowed this week to another £100,000 in what Cardinal Keith O'Brien called a "war on gay marriage."
"Marriage is under threat and politicians need to know the Catholic Church will bear any burden and meet any cost in its defense," he said.
Meanwhile, supporters of marriage equality will hold a mock gay wedding to show their support for legislative progress.
From the BBC:
Gay rights campaigners are to hold a mock wedding outside Holyrood as a sign of support for same sex marriage.
…
More than 100 guests are expected to attend the mock marriage, involving Jaye and Ruth, a Christian couple from Glasgow.

After the ceremony the couple will deliver a 10,000-signature petition and letter to First Minister Alex Salmond, urging the government to "announce equal marriage legislation without delay".
The government now has to decide how to proceed. If they use their powers to legislate marriage equality, they will then have to draft a bill that will be finalized and introduced into Scottish Parliament next year.