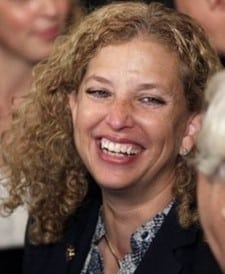 Democratic National Committee Chair Debbie Wasserman Schultz says she plans on seeing marriage equality included in her party's official policy platform.
"I expect marriage equality to be a plank in the national party platform," the Florida Representative told Philadelphia Gay News. "Now, our platform committee process is a people-powered process. We have a platform committee and the platform is developed by our Democratic activists and the platform committee members, so they'll go through a process. I hope that marriage equality, and expect that marriage equality, will be part of our platform."
Rep. Wasserman Schultz also said that while many Democrats remain committed to passing a transgender-inclusive Employment Non-Discrimination Act, groundwork needs to be in place before a serious effort can get going. "Just like what we went through with the hate-crimes law, in order to make sure that we could pass an inclusive hate-crimes law — we had to go through the community — we had to go through an education process. There had to be more outreach," she explained.
"We've been going through the same process with ENDA. I think really the last barrier to achieving ENDA is making sure that we have a Democratic majority in Congress so that we can send it to President Barack Obama for his signature. We have a Republican Congress that is so extreme."
As for whether the party will specifically help lesbian Rep. Tammy Baldwin win her Senatorial race, Wasserman-Schutlz says that's a question for the Democratic Senatorial Campaign Committee, but promised "Tammy Baldwin is going to be the next U.S. senator from Wisconsin."