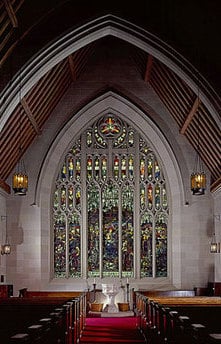 Good news out of the Episcopal Church, via The Los Angeles Times:
Sixteen years after allowing gays and lesbians to become priests, the Episcopal Church appears poised to introduce a rite that would specifically bless the unions of same-sex couples.

If the liturgy is approved, which is expected, Episcopalians will become the first major denomination to endorse such a ritual for homosexual couples.

On its face, the blessing seems similar to that of a marriage rite — including "I do," "we have gathered together today" and an exchange of rings. Notably absent are the words "husband," "wife" and "marriage."
The committee says that while the liturgy is not called "marriage," there are "significant parallels." A hearing on the liturgy will be held on Saturday, but no vote is set as of yet.