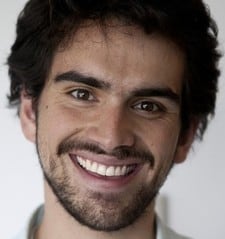 As news broke of gay AP intern Armando Montano's death, his fellow journalist friends put digital pen to paper to remember the 22-year old journalist.
Via Metro Weekly comes this memory from Aaron Edwards, an intern at The New York Times:
About one year ago, when Armando Montano and I went to the Chips Quinn Scholars Program, a journalism training program geared to young journalists of minority backgrounds, he started beaming when he found out that because we were Chips Quinn Scholars we would get free access to the Newseum, an interactive journalism museum in Washington, D.C.

But his excitement stemmed from more than the fact that he could now go and geek out over historic front pages and archival photographs from The New York Times and The Washington Post whenever he wanted. Armando, or "Mando" as many called him for short, was excited because he was adamant and steadfast in the idea that he would marry the love of his life there.

"I'm going to get married in the Newseum, Aaron. I'm going to get married at the freakin' Newseum." he would tell me.
…
Mando was sure that he would stand on the balcony of that building one day and say "I Do" to a man who loved him enough to understand and cherish a guy whose quirky soul led him to want to get married atop a national journalism museum.   
Marissa Evans, an intern at the Washington Post, also memorialized Montano. The late writer's enthusiasm for his craft — and indeed life — was so contagious that Evans and he formed a deep friendship based solely on online correspondence.
Evans writes, "Looking through my Gmail chats with him, I had only started talking to him on August 1, 2011. Our friendship is built upon 72 hilarious chat sessions plus countless Facebook comments/likes and Twitter mentions and retweets."
"As journalists, we harp so much about using social media to be an extension of our brand but it furrows my brow to think about how we sometimes forget to use it to truly connect with the people we friend and follow."