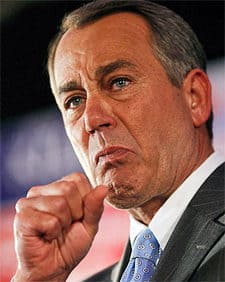 A judge in Connecticut today rejected the Republican-controlled House Bipartisan Legal Advisory Group's petition to stay proceedings in Pedersen v. Office of Personnel Management, which is challenging the Defense of Marriage Act as unconstitutional.
"The Court finds that the harm which would befall the Plaintiffs if a stay were to be entered is significant," Judge Vanessa L. Bryant, a George W. Bush nominee, wrote in her decision. "Entering a stay in this matter would essentially deny the Plaintiffs the right to advocate for their own interests, asking them instead to 'stand aside while a litigant in another [case] settles the rule of law that will define the rights of both [parties]."
Judge Bryant concluded, "The Court finds that public interest weighs against the entry of a stay in this matter, as the challenge to the constitutionality of Section 3 of DOMA presents an important issue to the nation as a whole such that the Second Circuit and potentially the Supreme Court would benefit from as many opinions and analyses as possible to enrich their review."
Mary L. Bonauto from Gay & Lesbian Advocates and Defenders, lead counsel in Pedersen, said her clients "are being denied access to vital federal programs under DOMA, and we're gratified that Judge Bryant affirmed their right to a resolution of their case."