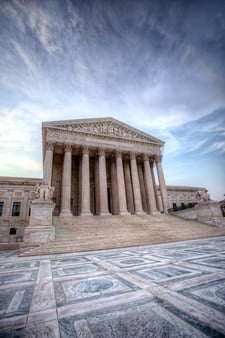 The Supreme Court may have its docket full of LGBT-related cases come October, when it goes back into session.
Mere days after word spread that Republican House leaders want the justices to uphold DOMA, Prop 8 Trial Tracker reported late Tuesday that the Department of Justice's Solicitor General has asked the Court to review the constitutionality of DOMA as presented in two cases.
In one, Golinski v. the Office of Personnel Management, the Justices are asked to review the dismissal of a case brought by Karen Golinski, who is asking the government to grant her wife the same benefits bestowed upon straight spouses. A federal court ruled in February that the government was indeed violating the U.S. Constitution. Oral arguments about the case's nitty gritty were meant to be heard before the Ninth Circuit Court in September, but the Justice Department's move would bypass that hearing all together.
The Solicitor General is also asking for a writ of certiorari, or review, in the First Circuit mega-case Gill v. OPM/Massachusetts v. HHS, the case the GOP is using for its own discriminatory causes.
Lambda Legal staff attorney Tara Borelli said the move "highlights the desire by all, the government included, to resolve this issue quickly."
It is clear to us, to the Solicitor General and to the Department of Justice that DOMA's days are numbered. The last four courts to consider the question have all found Section 3 of DOMA – which prohibits the federal government from recognizing same-sex couples' valid marriages – to be unconstitutional. DoJ's action may speed the day when the Supreme Court reaches the issue.
…
While it is up to the Supreme Court to decide whether or not to hear Golinski now, we are confident that DOMA will be found unconstitutional – and the sooner, the better.
For real. Wouldn't it be nice to have this whole thing wrapped up by this time next year?
(Image via Angela Pan.)