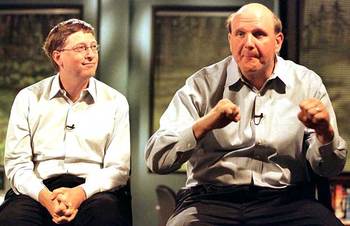 Microsoft executives Bill Gates and Steve Ballmer are using their respective fortunes to help defeat an anti-gay marriage referendum in Washington State.
Microsoft co-founder Bill Gates and CEO Steve Ballmer are each donating $100,000 to support the campaign to uphold Washington state's new gay marriage law, according to The Associated Press.

That law, which was passed by the Legislature and signed by Gov. Chris Gregoire in February, faces a referendum vote in November.

The AP cites Zach Silk, campaign manager for Washington United for Marriage, who says the checks were cut on Friday and are being reported to the state Public Disclosure Commission Monday afternoon.
There's good reason to expect a win for equality in November: 51% of voters told Public Policy Polling they support same-sex marriage. Only 42% said they oppose it.
(h/t JMG)