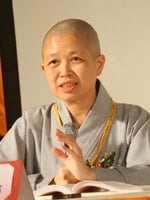 What will reportedly be Taiwan's first gay Buddhist wedding shall be held in Taoyuan County next month, according to the Taipei Times:
"We are not only doing it for ourselves, but also for other gays and lesbians," Fish Huang said in a telephone interview.

The 30-year-old … said that marriage never crossed her mind until she saw a movie last year.

The film portrayed two lesbians whose ill-fated relationship concluded after one died and the other was left heartbroken over the denial of spousal benefits.

"It's so sad," Huang said, who plans to wed her partner of seven years on Aug. 11 at a Buddhist altar …
There shall be blessings, chants, and lectures from Buddhist masters on marriage. The ceremony won't be legally binding.
Despite the profound Buddhist-ish-ness of the marriage ceremony, Fish Huang tells the Taipei Times that many of her Buddhist friends were initially wary of attending the event, worrying that doing so might conflict with their vows. She wrote to a Buddhist master, asking for the party line on homosexuality, and the master not only told her that Buddhism, as she knew it, was a-okay with lesbian weddings — the master offered to perform Fish Huang's lesbian wedding. From the Taipei Times:
"It is meaningful to us that our wedding can give hope to other homosexuals and help heterosexuals understand how Buddhism views sexuality," Huang said.

The Buddhist master Shih Chao-hwei (釋昭慧), who is also a professor at Hsuan Chuang University, said Buddhist teachings do not prohibit homosexual behavior.

… "It's difficult enough to maintain a relationship … how could you be so stingy as to begrudge a couple for wanting to get married, regardless of their sexual orientation," she said in a telephone interview.
Shih Chao-hwei acknowledged that her views were not universally shared among her co-religionists.